Hi-Tech Conferencing

Take A Conference Room Tour
Is Technology Important?
Parker Station Professional Offices offers its tenants access to modern and technololgically advanced conference rooms. Conveniently located on the 2nd and 3rd levels, our conference rooms contain cutting edge modern equipment suitable for all tenant's needs.
Our 3rd floor conference room is ideal for meetings of up to 6 people. Additionally, our 2nd floor conference room can accommodate up to 18 people in either a traditional meeting space configuration, setup as an educational lecture space or configured in a variety of useful ways.
Our tenants can access a wide range of technology in our conference rooms including:
Free Wi-Fi with dedicated access point
Access to High Definition Sony TV visual display
Access to wireless Apple TV through TV/Monitor
TV Mirroring and computer "hook-up" via HDMI
After hour tenant use available
Video Conferencing
Not only are these state-of-the-art amenities available to our tenants, but they are included at no additional charge. Access to facilities of this quality in the "Heart of Parker" without a surcharge is one of the many benefits of locating your business in Parker Station Professional Offices.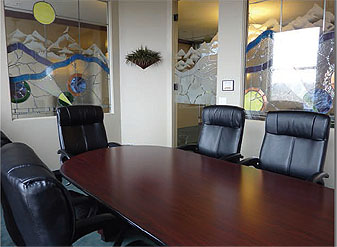 Cutting edge technology
and flexible conference room options
allow us to create a professional
work atmosphere for your business.