Why Parker? - Attractions!


The Wildlife Experience is an educational and entertaining museum that connects visitors with wildlife and habitats in a fun learning environment!
A unique blend of interactive exhibits, large format film, fine art, natural history community educational programs and events is unrivaled and provides The Wildlife Experience the opportunity to present information on the world's wildlife and ecosystems to encourage discovery and understanding through fun and entertainment. The Wildlife Experience instills respect for habitat and wildlife and inspires efforts to conserve for generations to come through educational, interactive and entertaining experiences.
Learning abounds at The Wildlife Experience in a variety of methods. Audiences can learn about a particular animal, habitat or region with the large-format films in the Extreme Screen Theater. Interactive media accompanies many of the exhibits and galleries where guests can test their knowledge and have fun learning about wildlife. Other education programs include school tours, "Meet the Artist" programs, and an online K-12 education curriculum. instills respect for habitat and wildlife and inspires efforts to conserve for generations to come through educational, interactive and entertaining experiences.
It is a 111,000-square-foot building located on a thirteen-acre site. The facility contains multiple art and natural history galleries, a 315-seat Extreme Screen Theater, a Great Hall for hosting large events, conference rooms, a café, gift shop and an outdoor entertaining space.
The Wildlife Experience was founded by Mr. Dave and Gail Liniger, who are also the co founders of Re/Max Internantional, Inc., as a not-for-profit endeavor.
Situated on a hill overlooking the surrounding countryside and the famous Rocky Mountains, The Colorado Horse Park is the largest horse park West of the Mississippi. CHP offers the opportunity to participate in, enjoy and support world-class equestrian sports. Amateurs, juniors and Olympians in all disciplines compete at CHP each year, making it one of the most influential equestrian centers in North America.
The Colorado Horse Park is an international equestrian complex with more than 40 events a year with over 75,000 people in attendance. The CHP has 11 arenas, 300 permanent show stalls and enough portable stalls for 1000 competing horses. The Colorado Horse Park's purpose is to promote amateur athletics and to lessen the burden on government for the community, the region and the country.
The Colorado Horse Park has served as a role model for other horse parks. Planners and staff from proposed parks in California, Connecticut, Pennsylvania, Texas and Canada have visited and studied CHP. The Colorado Horse Park depends on private, tax-deductible donations to the Foundation.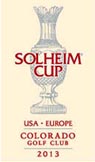 When golf course architects Bill Coore and Ben Crenshaw first walked the property at Colorado Golf Glub, they deemed the land "gifted for golf". The 7,604 - yard, par 72 course plays through open meadows, wooded hillsides, natural barrancas, and streams. Coore and Crenshaw have utilzed all these elements to create a "journey" that engages all aspects of the game. The Colorado Golf Glub, has been named the No. 1 Best New Private Golf Course by both Golf Magazine and Sports Illustrated, 2007 rankings. In 2010 it was No. 22 in ranking for Top 100 Mondern Courses by GolfWeek. And, in 2007 Golf Magazine announced that it was one of the top "Ten to Watch" in the world top 100 golf courses.
Colorado Golf Glub, got its first test as a championship venue when it hosted the 71st Senior PGA Championships in 2010. In 2013, August 13-18, The Solheim Cup will be hosted by the Colorado Golf Glub,. The Solheim Cup combines the tradition and prestige of the game of golf with passion for one's country. Top women players from both sides of the Atlantic will compete, not for prize money, but for the pride in representing their nation as a team. The best women golfers from the US will compete against the best women golfers from Europe in a once in a life time international event to be held in the Greater Parker community. To get further information on the 2013 Solheim Cup please contact their web site at www.solheimcup.com