Parker Station Professional Office Building is

The Best Office Space Value in Douglas County, Colorado
Spotlight on Available Office Space
View video of a typical office suite
AVAILABLE Retail Space:
Suite R9: 1,400 rentable sq. ft.
AVAILABLE NOW--Suite R9 is a beautiful corner 1st Level Mainstreet office space available now for rental.
This space is designated as a "retail" space due to its accessibility and visibility to the public along Mainstreet. The space is slightly less than 1400 sq. ft., with a private restroom, kitchen and wonderfully remodeled design.
Call now and join the Mainstreet Downtown Business community!
Suite 395: 1,797 rentable sq. ft.
Suite 395 - Triangle Office Space (Very Efficient Design Plan) with "longest side" having 4 large window offices. Interior has large kitchen, work area, conference/multi desk room, reception area and overall just a great layout! Space will be completely redecorated as to colors/carpet.
Available June 1, 2018.
1797 Sq. Ft. with room for up to 12 persons, though 7 to 8 is most comfortable for use.
Contact us now about other POSSIBLE UPCOMING SPACE AVAILABILITY for 2018!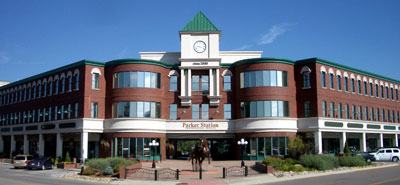 Parker Station Professional Office Building combines Victorian Charm with outstanding amenities: 10 foot ceilings, free tenant conference rooms, public art, separately controlled heating and cooling, and on-site restaurants.
Parker Station Professional Office Building is locally owned and managed.
David A. Van Landschoot, President of 1st Asset, LLC, is the leasing contact for Parker Station Professional Office Building. David can be reached by email or by calling 303.550.0178.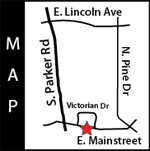 Office: 303.805.0047
Cell: 303.550.0178
Email
If you are interested in office space in Parker Colorado and becoming a tenant at Parker Station Professional Office Building, please call or email us, or CLICK the link above and we will be in contact with you shortly.